2.13 inch ultra low temperature E ink panel SPI interface, GDEW0213V7LT
2.13 Inch / 212x104 Resolution / Ultra Low Temperature / Partial Refresh

This is ultra low temperature (-25~10℃) 2.13 inch e-paper display with 212x104 resolution. It has 24 pins FPC connection, optional FPC connector, also communicated via SPI interface, with embedded controller(COG package) and on-chip stored waveform, supports black and white.
In view of so many advantages: ultra low temperature, near 180 degree view angle, readable under sunlight, GDEW0213V7LT is a very good choice for applications like:
· Shelf label
· Smart tags
· Wearable devices
· Smart home application
· Industrial instrument
· Smart cards
· And other related products that in cold area.
Features:
Ultra low temperature: -25℃ to 10℃
Support partial refresh
Its refresh time is shorter than GDEH0213D30LT, but GDEH0213D30LT's effects is better than it.
Come with helpful development resources and manual
The I2C signal master interface to read built-in temperature sensor.
Development platform available:
2.13 inch e-paper display ultra low temperature E ink panel SPI interface
Scan the QR code to read on your phone
We could not find any corresponding parameters, please add them to the properties table
Parameters:
| | |
| --- | --- |
| Part Number | GDEW0213V7LT |
| Type | Dot Matrix |
| IC Driver | UC8151C |
| Resolution | 212x104 |
| Outline Size(mm) | 29.2x59.2x0.98 |
| Active Size(mm) | 23.71x48.55 |
| Pixel Pitch(mm) | 0.229x0.228 |
| Operating Temp. | -25℃~10℃ |
| Storage Temp. | -25℃~70℃ |
| Connector | 24 Pin FPC |
| Max Grayscale | 2 |
| Color | Black,White |
| Power consumption of the refresh(mW) | 26.4 |
| Standby power consumption Pc(mW) | 0.0165 |
| Time of refresh(s) | 3 |
| Time of partial refresh(s) | 0.3 |
Drawing Picture: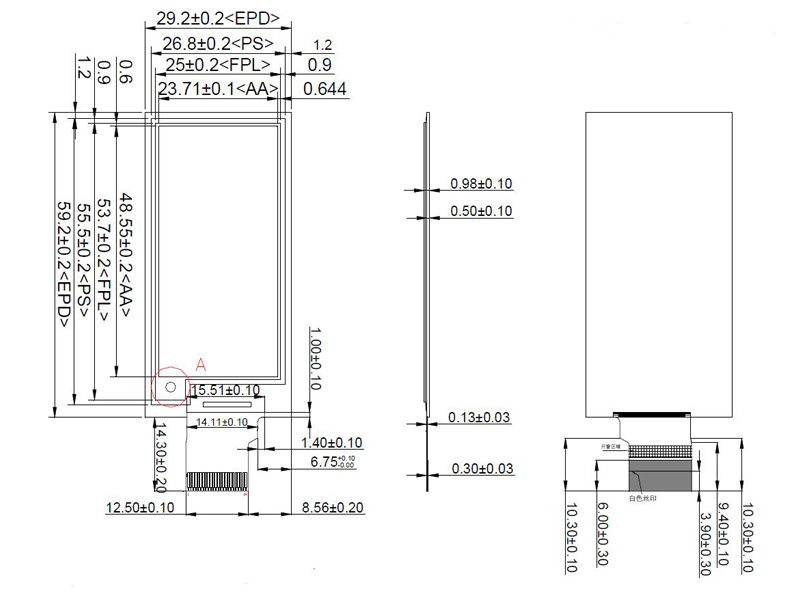 Contact information
Contact information
底部logo
Time of issue:
2020-04-27 00:00:00
底部联系方式
Time of issue:
2020-04-27 00:00:00
底部版权信息
Time of issue:
2020-04-27 00:00:00