1.54 inch e-paper screen partial refresh 4 grayscale, GDEW0154T8
1.54 Inch / 152x152 Resolution / 4 Grayscale / Partial Refresh / Fast Refresh

This E ink electronic paper display is a TFT active matrix electrophoretic display, with interface and a reference system design.
Supports partial refresh, fast update and no flicker update.
The 1.54" active area contains 152×152 pixels, 4 Grayscale, and has 1-bit full display capabilities. An integrated circuit contains gate buffer, source buffer, interface, timing control logic, oscillator, DC-DC. SRAM, LUT ,VCOM, and border are supplied with each panel.
Features:
152×152 resolution
Partial refresh
Fast refresh
4 Grayscale
Come with helpful development resources and manual
Front light, Touch screen(Optional)
The I2C signal master interface to read built-in temperature sensor.
Development platform available:
1.54 inch e-paper screen 152x152 resolution partial refresh 4 grayscale
Scan the QR code to read on your phone
We could not find any corresponding parameters, please add them to the properties table
Parameters:
| | |
| --- | --- |
| Model | GDEW0154T8 |
| Type | Dot Matrix |
| IC Driver | UC8151C |
| Resolution | 152x152 |
| Outline Size(mm) | 31.8x37.32x0.98 |
| Active Size(mm) | 27.51x27.51 |
| Pixel Pitch(mm) | 0.181x0.181 |
| Operating Temp. | 0℃~50℃ |
| Storage Temp. | -25℃~70℃ |
| Connector | 24 Pin FPC, Pitch:0.5mm |
| Color | Black,White |
| Current of the refresh(mA) | 8 |
| Power consumption of the refresh(mW) | 26.4 |
| Standby power consumption Pc(mW) | 0.0165 |
| Time of refresh(s) | 3 |
| Time of partial refresh(s) | 0.3 |
| Time of fast refresh(s) | 0.82 |
| Max Grayscale | 4 |
Drawing Picture: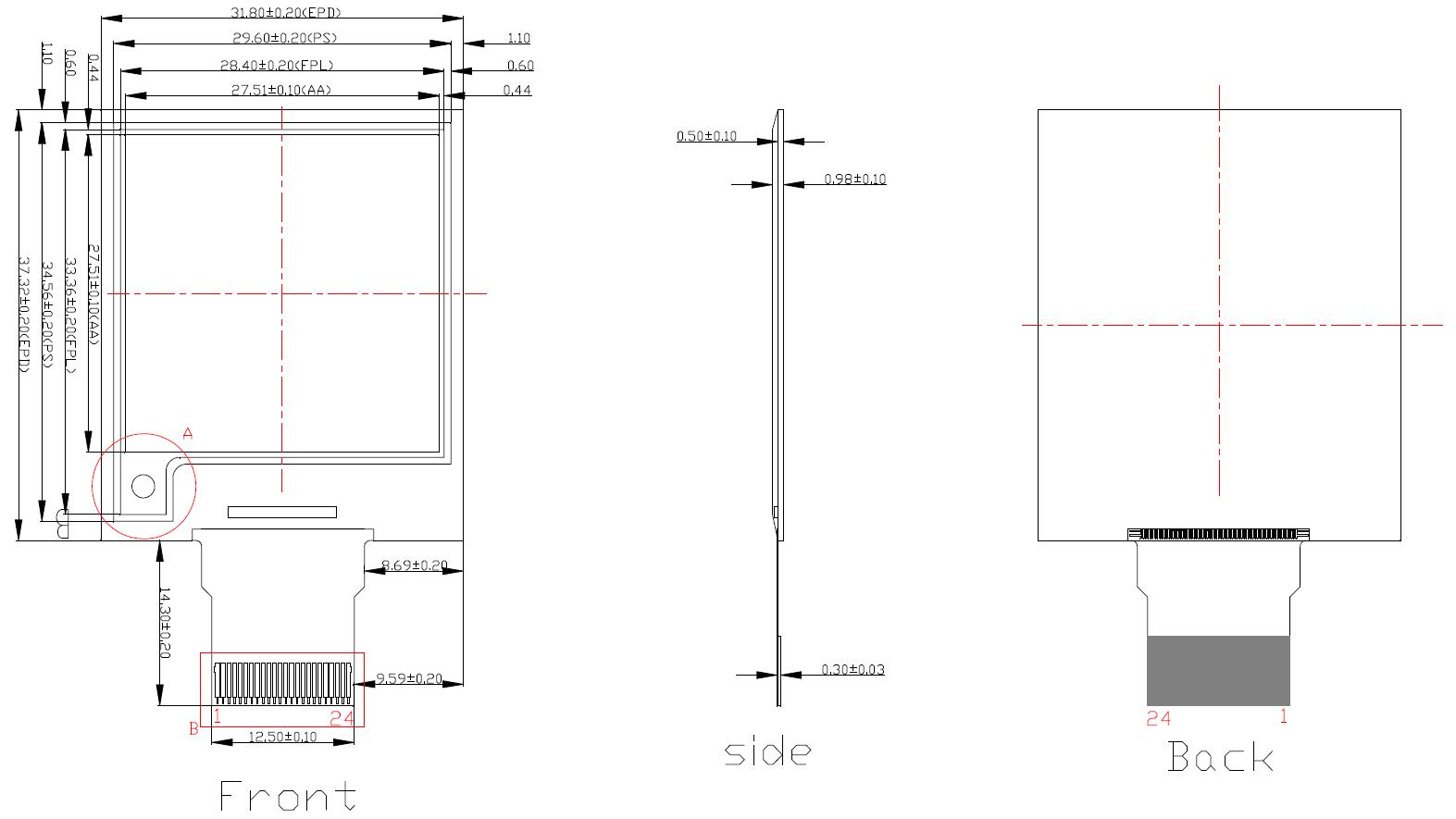 Picture Production and Bitmap Convert:
Contact information
Contact information
logo
Time of issue:
2020-04-27 00:00:00
Contact
Time of issue:
2020-04-27 00:00:00
copyright
Time of issue:
2020-04-27 00:00:00