1.5 inch Color OLED Display Panel 128x128 Pixels, GDO0150C
INTRODUCTION
GDO0150C is the color graphic OLED display module made of 128(RGB)x128 OLED pixels, diagonal is only 1.5 inch.The controller ic SSD1351, communicates via 6800/8080 8-bit parallel and 3-wire/4-wire serial interface.

Because the display makes its own light, no backlight is required. This reduces the power required to run the OLED and is why the display has such high contrast,extremely wide viewing angle and extremely operating temperature.The fpc is the connector type,we offer optional zif connector(fpc connector).
FEATURE
● Self-luminous, no backlight is required.
● Ultra low power consumption.
● Wide operating temperature: -30℃~70℃
● Come with helpful manual
1.5 inch Color OLED Display Panel 128x128 Pixels
We could not find any corresponding parameters, please add them to the properties table
PARAMETERS
| | |
| --- | --- |
| PART NUMBER | GDO0150C |
| DIAGONAL SIZE | 1.5" |
| DISPLAY MODE | Passive Matrix |
| DISPLAY COLOR | 262,144 Colors (Maximum) |
| DRIVE Duty | 1/128 Duty |
| NUMBER OF PIXELS | 128(RGB)x128 |
| INTERFACE | 8-bits 68XX/80XX Parallel, 3-/4-wire SPI |
| Driver IC | SSD1351 |
| OUTLINE DIMENSION(mm) | 33.80x34.00x1.60 |
| ACTIVE AREA(mm) | 26.855x26.864 |
| PIXEL PITCH(mm) | 0.07x0.21 |
| PIXEL SIZE(mm) | 0.045x0.194 |
| BRIGHTNESS(Typ) | 90 cd/m2 |
| VIEW ANGLE | >160 |
| OPERATING TEMP. | -30℃~70℃ |
| STORAGE TEMP. | -40℃~80℃ |
| CONNECTION | FPC-Connector |
| POWER SUPPLY(Typ) | 2.8V |
DRAWING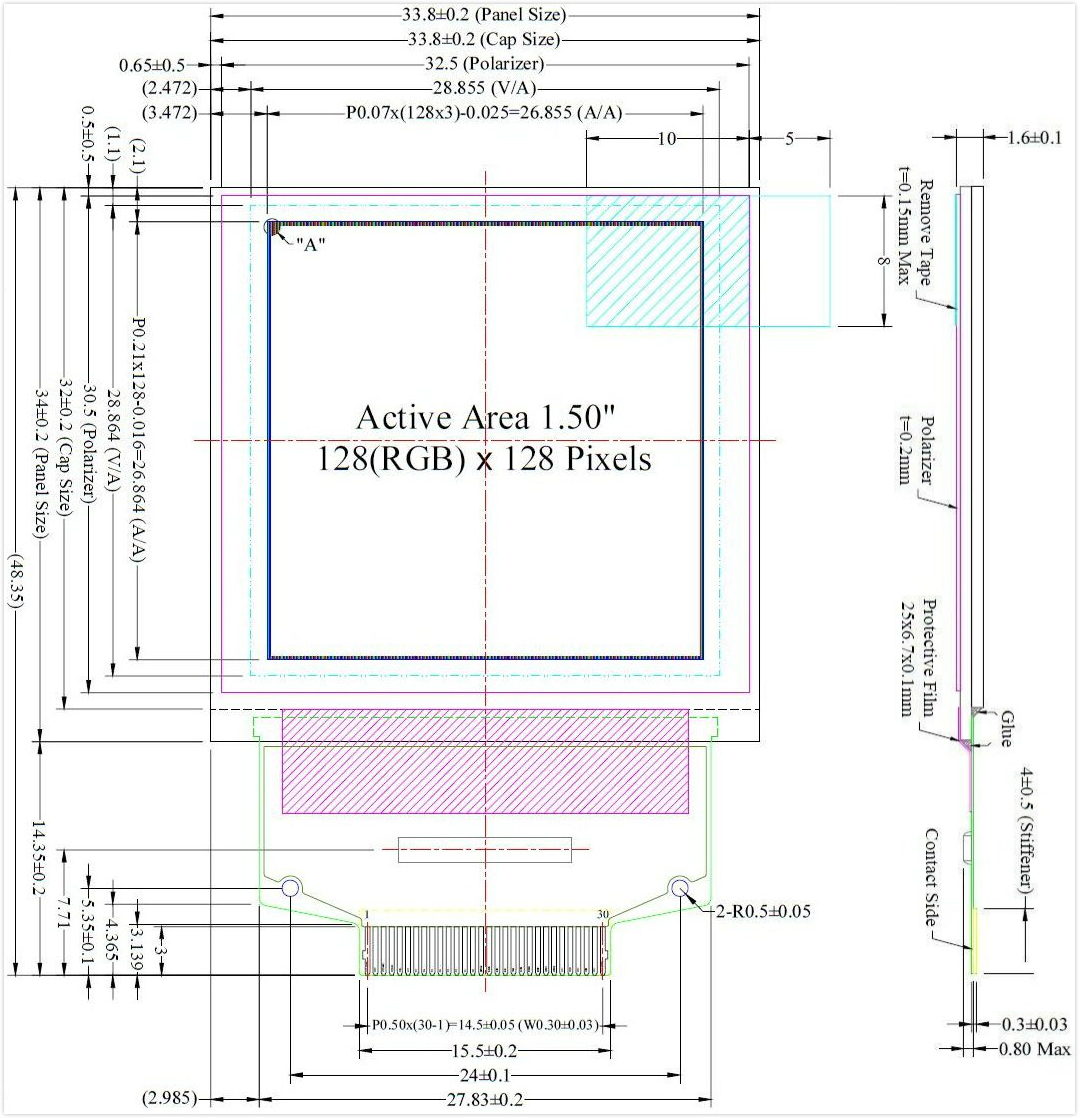 Contact information
Contact information
Contact
Time of issue:
2020-04-27 00:00:00
copyright
Time of issue:
2020-04-27 00:00:00