1.54 inch tri-color Yellow e-paper display three colors, GDEM0154C90(SOLED OUT)
This is a tri-color e-paper display, 1.54 inch, with 152x152resolution, SSD1680, SPI interface.
INTRODUCTION
This is a 1.54 inch color e-paper display with 152x152 resolution, SPI interface, and the e-paper display is capable to display images with black, white and yellow content. Your image holds indefinitely without power – put up your image, then shut down the power. Once these e-paper modules are updated they don't require any power and can actually be disconnected entirely and the content will remain on the e paper display indefinitely. This e-paper display GDEM0154C90 is perfect for low power devices powered by solar or batteries.
We could provide Front light, Touch screen and other accessories for you.
* This e-ink display module DOES NOT support partial updates
You can refer to the following link for the procedures and instructions of automatic e-paper display bitmap conversion: ImageToEpd. Also you could use our free e-paper software to prepare your bitmap image for this display, or make the picture on our bitmap conversion website: Image to Array
FEATURE
● Versatile. Use in portrait or landscape format
● Bistable. (Will continue to display with no power source)
● I2C Signal Master Interface to read external temperature sensor
● Black, white and yellow. Compared with monochrome electronic paper display, it is more beautiful
DEVELOPMENT PLATFORM AVAILABEL
We have this e-paper screen Adapter Board that makes connecting our ePaper simple and fast.
1.54 inch Yellow e-paper display three colors
We could not find any corresponding parameters, please add them to the properties table
PARAMETERS
| | |
| --- | --- |
| PART NUMBER | GDEM0154C90 |
| TYPE | Dot Matrix |
| SIZE | 1.54 inch |
| IC | SSD1680 |
| RESOLUTION | 152x152 |
| OUTLINE SIZE(mm) | 31.8x37.32x1.0 |
| ACTIVE SIZE(mm) | 27.512x27.512 |
| PIXEL PITCH(mm) | 0.181x0.181 |
| OPERATING TEMP. | 0℃~40℃ |
| STORAGE TEMP. | -25℃~40℃ |
| CONNECTOR | 24 Pin FPC |
| MAX GRAYSCALE | 2 |
| COLOR | Black, White, Yellow |
| INTERFACE | SPI |
| FULL REFRESH(s) | 30 |
| POWER CONSUMPTION OF THE REFRESH(mW) | 8.4 |
| STANDBY POWER CONSUMPTION (mW) | 0.003 |
| | Optional |
1.54 Inch E-paper Display Related Products List >>
DRAWING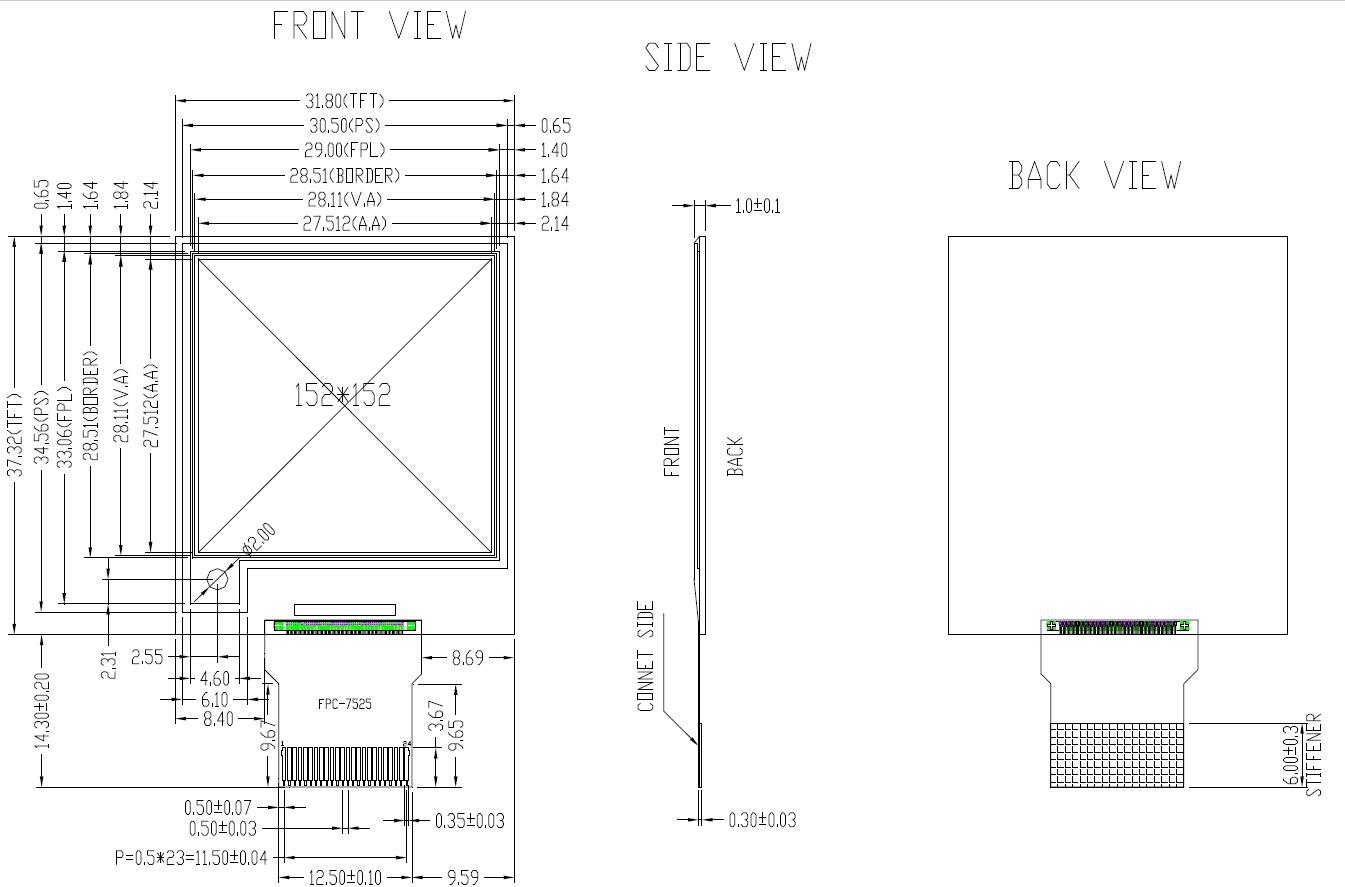 Contact information
Contact information
logo
Time of issue:
2020-04-27 00:00:00
Contact
Time of issue:
2020-04-27 00:00:00
copyright
Time of issue:
2020-04-27 00:00:00