2.7 inch E Ink display small size 4 grayscale electronic paper display, GDEW027W3
This is a 2.7 inch E Ink display, with 264x176 resolution, EK79652, SPI interface, and theelectronic paper display supports partial refresh and 4 grayscale.
2.7 INCH E-PAPER
Partial Update, EK79652, 264x176 Resolution, Paper-Like Displaying, Low Power, 4 Grayscale
INTRODUCTION
This is a 2.7 inch small E Ink display with 264x176 resolution, SPI interface, and the display is capable to display images with black and white content. Your image holds indefinitely without power – put up your image, then shut down the power. Once these e-paper modules are updated they don't require any power and can actually be disconnected entirely and the content will remain on the display indefinitely. This electronic paper display GDEW027W3 is perfect for low power devices powered by solar or batteries.
We could provide Front light, Touch screen and other accessories for you.
You can refer to the following link for the procedures and instructions of automatic e-paper display bitmap conversion: ImageToEpd. Also you could use our free e-paper software to prepare your bitmap image for this display, or make the picture on our bitmap conversion website: Image to Array
FEATURE
● Support 4 Grayscale
● Black and white monochrome is easy to read
● Versatile. Use in portrait or landscape format
● It supports partial refresh, the refresh rate is 0.3s/frame
● Bistable. (Will continue to display with no power source)
● I2C Signal Master Interface to read external temperature sensor
DEVELOPMENT PLATFORM AVAILABEL
We have this e-paper screen Adapter Board that makes connecting our ePaper simple and fast.
2.7 inch e-ink display small size 4 grayscale electronic paper display
We could not find any corresponding parameters, please add them to the properties table
PARAMETERS
| | |
| --- | --- |
| PART NUMBER | GDEW027W3 |
| TYPE | Dot Matrix |
| SIZE | 2.7 inch |
| IC | EK79652 |
| RESOLUTION | 264x176 |
| OUTLINE SIZE(mm) | 70.42x45.8x0.98 |
| ACTIVE SIZE(mm) | 57.288x38.192 |
| PIXEL PITCH(mm) | 0.217x0.217 |
| OPERATING TEMP. | 0℃~50℃ |
| STORAGE TEMP. | -25℃~70℃ |
| CONNECTOR | 24 Pin FPC |
| MAX GRAYSCALE | 4 |
| COLOR | Black,White |
| INTERFACE | SPI |
| FULL REFRESH(s) | 3 |
| PARTIAL REFRESH TIME(s) | 0.3 |
| POWER CONSUMPTION OF THE REFRESH(mW) | 26.4 |
| STANDBY POWER CONSUMPTION (mW) | 0.0165 |
| | Optional |
DRAWING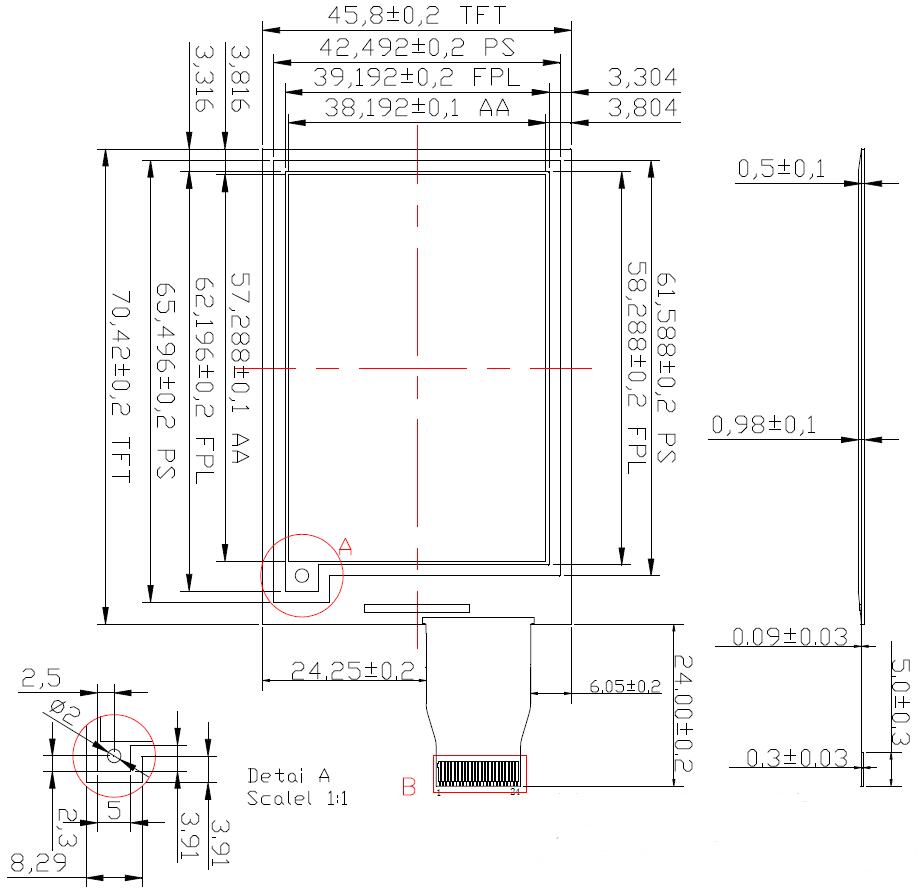 Contact information
Contact information
logo
Time of issue:
2020-04-27 00:00:00
Contact
Time of issue:
2020-04-27 00:00:00
copyright
Time of issue:
2020-04-27 00:00:00
©2007-2025 DALIAN GOOD DISPLAY CO., LTD. All Rights Reserved. ICP08000578-1